eHouse.PRO DIY - Buildng Automation System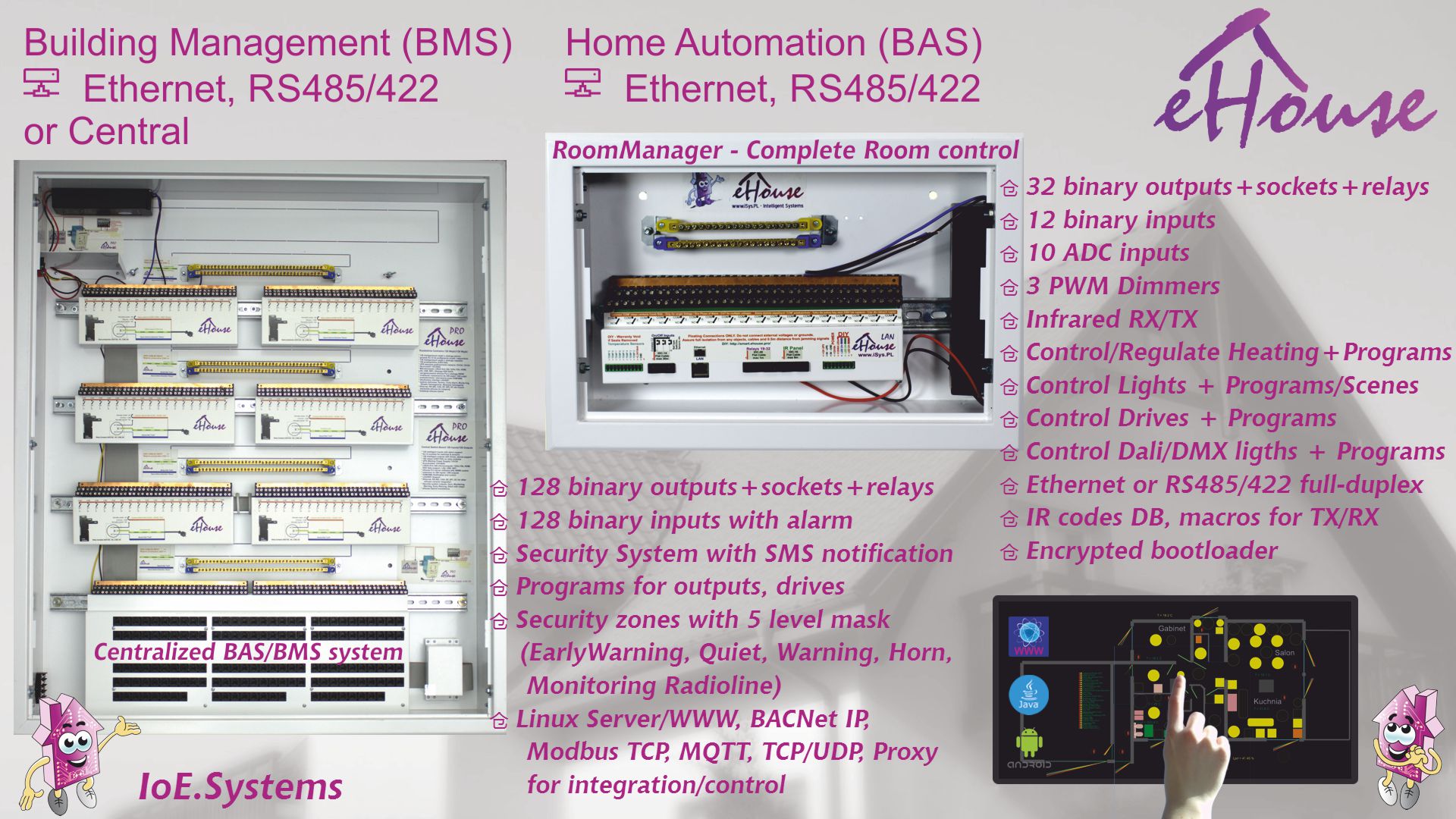 eHouse.PRO/Hybrid Building Automation System (BAS) is hybrid solution (wired+wireless) with 5 types of communication interfaces.
Main Communication Interfaces:
PRO DiY (Central)
RF (SubGHz)
Ethernet (LAN)
RS-422 (Full Duplex RS-485)
Controller Area Network (CAN)
WiFi (WLAN)
eHouse.PRO DIY Hardware solution use high amount low cost I/O buffers. It contains:
one variant of the computer from: Raspberry Pi, Banana Pi/Pro, Orange Pi, Thinker Board
Port expansion module (RS-422, SPI, I2C)
CAN/RF gateway in case of using eHouse CAN or eHouse RF
SPI Input buffers (128) with security outputs with relays (Silent, Horn, Early Warning, Monitoring, Warning)
I2C/SPI Output buffers (128) with relay drives
This gives possibility to create centralized low budget DIY installation with high amount of I/O and connects
non IP
hybrid (wireless/wired) installation.
This solution might be sensitive to EMI disturbances in case of invalid installation in the switchboard as it use high speed low voltage SPI/I2C interfaces.
To avoid EMI problems
eHouse One
or
eHouse LAN
should be used as I/O Expansion modules instead of SPI/I2C low cost I/O modules.
eHouse controllers have also auxiliary (optional) communication interfaces which could be allocated for system expansions:
SPI/I2C
DMX light control
Infrared (RX/TX)
Dali light control
PWM (For Dimming)
RFID Card Reader (expansion)
UART
BlueTooth (expansion)
Main eHouse system Controllers functionality (overall)
Control Room (Hotel, ApartHotel, CondoHotel)
Control HVAC (Ventilation, Recuperation, Central Heating, Heat Buffer)
Control Swimming Pool
Control Audio/Video Systems
Build In Security System with SMS notification + zones and security masks
Measurement and regulation (eg. Temperature) + regulation programs
Control Drives, servos, cutoff, shade awnings, doors, gates, gateways, windows + drives programs
Control Lights (on/off, dimmable) + light scenes/programs
Server Software functionality
Integrate eHouse variants
Control External Security System
Cloud/Proxy server communication
Control Media Player
System integrations - protocols BACNet IP, Modbus TCP, MQTT, LiveObjects
Control via WWW
Control External Audio/Video System
---