eCity LoRaWAN IoE/IoT Devices. Internet of Things | Internet of Everything (LoRaWAN)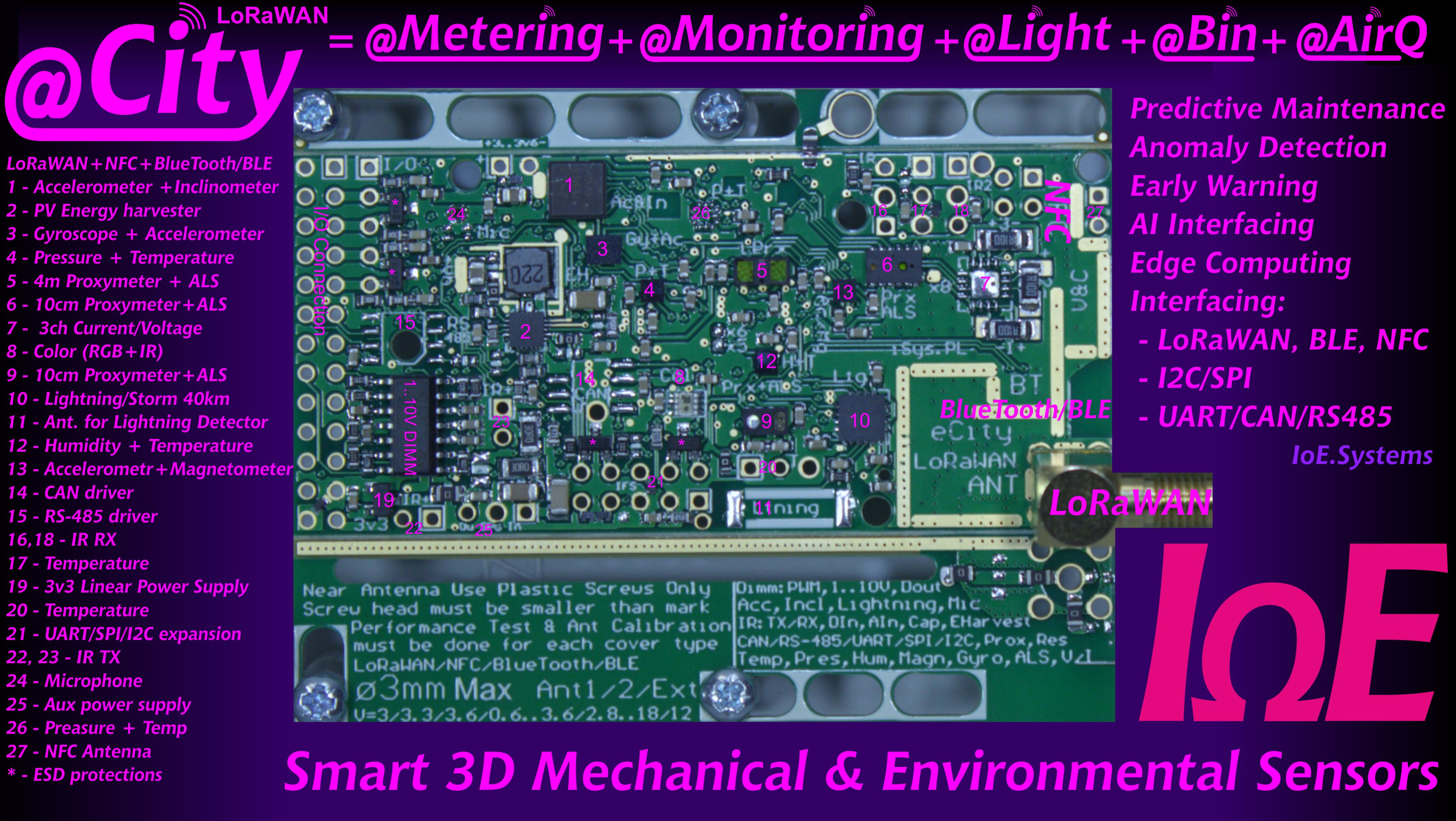 eCity IoT LoRaWAN Internet of Things (IoT), Industrial Internet of Things Solutions:
This solution use Long Range Communication (up to 15km between end devices and LoRaWAN gateway).
It is particularly necessary when no GSM range exists or is too expensive for the application.
However, speed, data size, frequency of data depends strictly from a range/quality of signal.
This solution are rather limited to remote sensors and controlled devices which not require frequent data update.
Auxiliary SPI/I2C interface for sensors connection
UART, RS-485 Serial Port for optional extensions
Infrared (IR RX/TX) interface
Dozens of on-board optional sensors for Predictive Maintenance, anomaly-detection
NFC Aux Interface
Microcontroller device with LoRaWAN modem
BlueTooth 4.2/BLE aux. interface
Available Sensors
pressure
3-axis vibration and acceleration
3-axis magnetometer
electricity consumption
proximity (10cm)
gas concentrations
lightning up to 40km
3-axis accelerometer
proximity (4m) - Time of Flight
light level
solid particles 1, 2.5, 4, 10um
air pollution
capacity
ground moisture
3-axis inclinometer
humidity
3-axis gyroscope
ALS (ambient light)
color (R, G, B, IR)
temperature
resistance
---